tempestas et caelum productions » nathan n. page
Nathan N. Page
TCPFilms Regent & Projects Director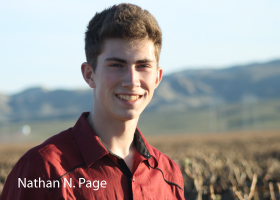 Currently working toward a Bachelor's Degree in Communication Studies.

Mr. Page is a native of Illinois who is currently working toward his bachelor's degree at Eastern Ilinois University. Mr. Page works at the Center for Academic Technology Support at EIU on video projects for the center. He also works as the sports anchor in WEIUs award winning news program, NewsWatch, that airs live on weekdays. Mr. Page is a promising filmmaker, sports anchor, and videographer. His passion is Ultimate Frisbee for which he has led his teammates to many victories here in the Midwest.
Mr. Page currently serves as Regent to the TCPFilms Family, meaning, that he acts as an executive in the company.
Honors and Awards
First Place SINBA (Students in the Illinois News Broadcast Association) in TV News Reporting, "Westlands Water Problem," (Expedition Endurance), April 25, 2015.
Filmography
(D=Director, P=Producer, W=Writer, N=Narrator, E=Editor, M=Music)
"Illinois' Skies" Series (2014-present) Eastern Illinois University, W
"Expedition Endurance: Without Water, We Are Nothing" (2014-Present) Eastern Illinois University, D/P/WE
Music Department Concerts/Recitals, (2014-Present) Eastern Illinois University, D/P/E
"Expedition Taiwan: A Landscape through New Eyes" (2015-Present) TCPFilms, D/P/W/E
Contact